Texas Doors and Windows - Testimonials
Client Testimonials
"We can't even begin to tell you how much we love our new wooden doors. When we began looking for doors for our new log home, we considered three things, and all were of equal importance: 1) product, 2) price and 3) service. Massive research on the web was discouraging; many nice products were out of our price range. We really wanted solid wood doors. In desperation, I tried Craigslist, where I found a door you'd posted for sale. They looked to be a nice product, but my husband is a do-it-yourself guy. He was concerned about quality and purchasing wooden doors over the internet. With regard to our criteria, I'd done enough research to know you were offering a very good product because I'd seen at least one of the doors you offer also on other sites, and the cost difference was significantly to the better. That left service – the ability to communicate long distance to get our needs and desires met and to get the doors shipped to us with care. We needn't have been concerned. To say you went above and beyond to make us comfortable and our experience a success is an understatement. I'm still trying to figure out when you sleep. I've never had more personal service that was cheerful and spot-on. You put us to ease right away, and we were in a bit of disbelief that things went so smoothly, even down to delivery of the doors and how easy they were to install. From talking to us, to picking out the right door, to pre-hanging them to crating (and re-crating!), you know your stuff. We are so glad you do. You cared about us beyond selling us your doors; that is what made all the difference. You didn't just sell us doors. You gave us a grand experience that we treasure, and you have become our friend. "Thank you" seems woefully inadequate. To say we are pleased with the doors we purchased from you, the value, and your work, is an understatement. I've included a photo of the partially stained front door; it's already getting rave reviews on Facebook. I'm telling everyone I know about you, your product and your unbelievable service. You rock!"
Best regards and with utmost respect,
Butch and Lisa Westerfield
Kentucky
"Russell and his crew from Texas Doors & Windows were great from the beginning to the end. Russell sells high quality windows at very affordable price and not only that but even offers special financing if needed. However his deal was more attractive if you were to pay cash.
The windows were ordered and they took about three weeks to arrive. Once they arrived Russell contacted me by phone and scheduled a time to have him and his crew come out. He was very flexible on the schedule and worked around my schedule. Complete pull out of my low quality single pane windows and installing my updated high quality double pane Kingston windows purchased from Texas Doors & Windows was done in one day. The second day was basically sealing the windows and making sure all the old window frames, glass was disposed properly and safely from my property. They were very careful with that which I really thought was appreciated going above and beyond to do since I have little ones that play in the yard.
I highly recommend Russell and his crew @ Texas Doors & Windows. I cannot express the patients they had to make sure the job was done safely and correct. I give him and his crew an A++ and would not hesitate to do business with him in the future if I ever needed to get custom windows or doors installed!"
Mike and Eva Hicks
Leander, TX
"My family recently moved into a new home in Austin. We've never been big fans of the Texas star doors that are so popular here in Austin. After some quick research online I came across Design 2 Build. When I called Russel Shafer, the owner of Design 2 Build answered. I was worried that I had stumbled upon a guy selling doors out of his garage and installing them with duct tape. I was relieved when Russel greeted me so professionally. After chatting a few minutes I was comfortable enough to set up a meeting. After meeting with Russel and hearing his history in the industry and success in the door business I knew had the right guy. We picked out a new door and finish. My favorite part about working with Russel was his commitment to communication. Throughout the process Russel kept me up-to-date on the process of shipping and finishing my new door. In the end, we have a beautiful, high quality door installed at a fair price with no headache. My wife and I are elated with the final result. Because our new door is the envy of the neighborhood I've happily passed Russel's card on to many neighbors."
Have a great weekend.
Regards,
Wade Lombard
"I had Texas Doors and Windows install a dozen windows in my historic home recently. Russell Shafer was courteous and very patient throughout the process. His estimate was very competitive compared to what I had expected given the age of the house. His crew came in and did a great job and completed the work on schedule. It is rare for a contractor to really care about the homeowner like Russell does.
I would highly recommend his company to anyone seeking quality windows installed in their home.
Roy
"After 12 years of our original home windows, they were in very bad shape and we were in desparate need of replacements. We knew the investment was not going to be cheap, so we explored our options with several companies. After getting educated on windows, comparing costs and trying to figure out the best ROI with someone we trusted to take care of us, we chose Texas Doors and Windows. From start to finish, they were great to work with…and most important our windows are fantastic!!"
John & Tina Mallash
"Russell did a great job replacing our rigged, rotting, back patio doors. They were originally done incorrectly and several other door experts had told us that to replace our doors would mean it would ruin the faux painting job in our kitchen and that it would be a very difficult job. Russell and his crew had no problem replacing my doors, and didn't hurt my kitchen paint job, not to mention that we received super high quality doors for much less than we would have paid if we had purchased them anywhere else. We will definitely call Russell next time we need a new door or window. We highly recommend him- he knows what he is doing!"
Alan & Dana Parks
"RUSSEL (not a misspelling, as there is only one "L" in Russel Shafer, because he is UNIQUE) operates his business in the good old fashioned: with truth, follow-through, and inspection for quality. I have a reputation for expecting high standards of workmanship along with professionalism. My husband had died 7 weeks prior to the Lakeway Hailstorm, so I was feeling overwhelmed to have all the repairs of the storm added to my extensive "to-do list." I am so thankful that my neighbor found out about Russel, and sent him over to give me a bid. We felt very comfortable with Russel as he was so professional, knowledgeable, confident, respectful, and precise in what needed to be done from start to finish. He assured us that the areas inside and outside our homes would be managed throughout the job. At no point would anyone be in danger of stepping on glass fragments.
Kristin
"We have just returned(like the first of August 2015) to our home of 18 years, we've spent the last 8 of those in Columbus Ohio. We met our new across the street neighbors, J and S and noticed that they had a Texas Doors and Windows sign out front. We talked to them about general stuff but when we were leaving J let us know that the owner, Russel Schafer, would be out to start window replacement at our across the street neighbors, A and J. Reintroduced ourselves and asked Andy to have Russel pay us a visit when he came over. End of their work day he was at our house. Spent a bit of time going through pleasantries then walked through the house to see our circa 1980s double pane windows( all of which had blown their seals). We also have 3 exterior doors that were in sad condition. So asked the magic question, "How much?" "A" my neighbor had told me about what his original estimate was from 10 years ago so knew Russel's price 10 years later would be wayyyy out of our budget. So I asked what he could do within our budget. He thought for a minute or 2 and said if your willing to let me pick out the 3 doors from my existing inventory. . .At that time my wife asked what it would take to replace the 3 windows in our dining area with French doors. He said why don't you come down to my storage/work shop and we'll go through my inventory and we'll see what we can do. 2 days later went to see what he had to offer, with, I must say, very low expectations on my part. I figured we were going to end up with 10 year old technology on windows and some less than spectacular doors. First thing out of the box he said well I came close but let's see what we can find in the way of doors. We'll place the order for KENSINGTON BRAND VINYL WHITE FRAME WINDOWS–TOTAL OF 13 OPENINGS TO HAVE INSTALLED NEW WINDOWS WITH DOUBLE HUNG AND HORZ SLIDDERS–My comment "Really? the same ones you're using on all the other jobs you're doing? Russel "well of course, not going to cut corners on those" (description above). Also figured you'd want full screens. I can save some money if we do sliders instead of up and down windows". Sooo now I'm really getting excited! So off we went to look at doors, which oh by the way came with Larson brand storm doors that he had only a few left of and he wanted to get out of his storage area. I have included pictures of the 3 doors and French doors, because they are all external doors they are fire rated solid core. Talked bottom line price that included us having to do the painting but everything else was included. Everything was ready to begin Monday August 24th. We were in Tulsa taking care of family business so told them how to get in and get started. Russel was happy to do that, otherwise our installation would be pushed out 3 weeks. Arrived home to meet Eddy and Zeke, our installers.Through a few "challenges" and great attitudes from all Texas Windows and doors folks the job was finished today. We are "over the moon" with our "NEW" house. That's what it looks like with the new windows and doors. Our thanks to Russel, Eddy and Ezekial for an amazing deal, FABULOUS work and great customer service. Thanks again guys. Sure glad Russel moved from Houston 🙂
Doug and Karen Brown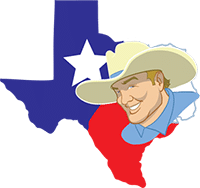 Has Texas Doors & Windows provided for you?
Tell us about it!